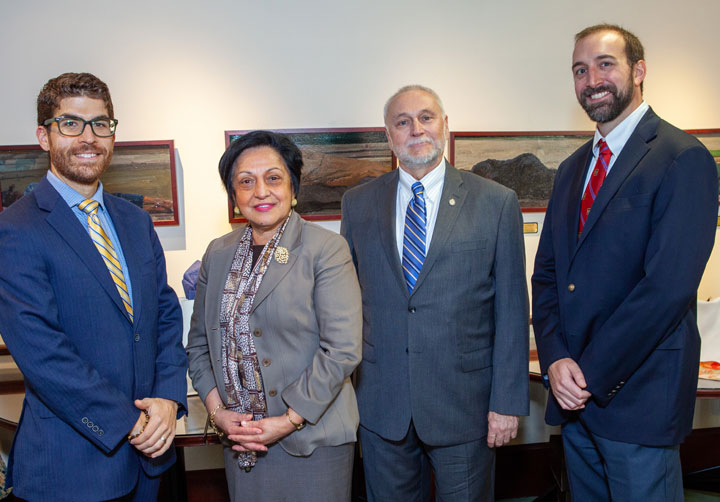 Cody Guarnieri '09 - History & Social Science and Political Science

Cody Guarnieri, a trial lawyer whose practice focuses on criminal defense and personal injury litigation, was elected to partnership with the law firm of Brown, Paindiris & Scott just six years after graduating from the University of Connecticut School of Law in 2012. Guarnieri has handled cases in nearly every courthouse in Connecticut, including trials to verdict before both judges and juries.  He has defended adults and juveniles accused of various offenses — including violent sexual assaults, bank robberies and murders — in state and federal courts. In his personal injury and civil litigation practice, Guarnieri has brought class action lawsuits on behalf of consumers, employees and others, including one of the first against Volkswagen based on the defective clean diesel "TDI" line of automobiles.
Guarnieri has been recognized as a top criminal defense lawyer every year since 2015, when he was named a "Rising Star" in criminal defense by Super Lawyers, an online service that recognizes the best lawyers in the country. The service's website now identifies him as a "Top Rated Criminal Defense Lawyer."  Guarnieri also carries the highest possible rating, 10 out of 10, by Avvo.com, another national lawyer reference and rating service.
He is currently the vice-chair of the Criminal Justice Section of the Connecticut Bar Association, co-chair of the Criminal Justice Section of the Hartford County Bar Association and was recently elected as the James W. Cooper Fellow of the Connecticut Bar Foundation. Guarnieri is also a member of the Connecticut Criminal Defense Lawyers Association as well as other legal associations.
Guarnieri graduated magna cum laude from Eastern while earning B.A. degrees in his two majors, history and social science and political science. He was inducted into the honor societies for history, political science and leadership, was an Honor Scholar. and was a member of the Honors Club, History Club and Pre-Law Society. At UConn law school, Guarnieri graduated with honors, served as executive director of the Connecticut Moot Court Board and was articles editor of the Connecticut Public Interest Journal.
In his spare time, he writes regularly for the Catholic Transcript, the publication of the Roman Catholic Archdiocese of Hartford. When he served as president of the Hartford Rotary Club in 2015, he was the youngest president in its 100-plus year history. Guarnieri has also served as an alternate on the Planning and Zoning Commission in South Windsor, where he lives with his wife Julianne, son Daniel and daughter Saoirse.
Dr. Justin Piro '05 - Biochemistry
Since earning a Ph.D. at Dartmouth Medical School while conducting research centered on the molecular underpinnings of prion diseases, Justin Piro has worked in pharmaceutical industry to advance scientific knowledge and develop therapies for neurologic injuries and disorders as well as neurodegenerative diseases. 
Piro's research in discovering the causes, effects and treatments for such diseases as Alzheimer's, Parkinson's, traumatic brain injury, stroke and epilepsy has been done while working for two major U.S. pharmaceutical companies, Pfizer and Abbvie. He is currently Principal Research Scientist at Abbvie's Foundational Neuroscience Center in Cambridge, MA. He previously worked within the Neuroscience Research Unit at Pfizer.
Piro has authored and co‑authored numerous scientific papers on his discoveries and advances, presented his work at regional, national and international conferences, and successfully transitioned his work from a concept into a phase 1 clinical study during a postdoctoral fellowship at Pfizer.
A biochemistry major at Eastern, Piro graduated in 2005 cum laude and was an Honor Scholar.  His intensive laboratory work at Eastern led to his appointment for two summers conducting research at the Department of Molecular Biology and Biochemistry at Wesleyan University as a Howard Hughes Fellow. At Dartmouth Medical School his research centered on how "misfolded" forms of prion proteins propagate within the brain and manifest into severe and rapid neurodegeneration. In the postdoctoral fellowship at Pfizer that followed, Piro's work centered on identifying novel and druggable pathways that contribute to neuroinflammation. This work led to development of small molecule inhibitors and ultimately to the clinical study.  He also led several preclinical programs at Pfizer.
Piro now manages a multi-site, multi-disciplinary team at Abbvie focused on neuroimmunology. His team studies how the immune system of the brain reacts to disease and then seeks to reverse maladaptive responses with the goal of slowing or halting disease progression. The work involves applying a variety of modalities, including traditional small-molecule chemistry as well as large-molecule biologics.
His work for both Pfizer and Abbvie has been based within Kendal Square in Cambridge, MA, and he lives outside the city in historic Concord with his wife Erin, daughter Sloan and son Colton.
Dr. Laurens "Larry" Smith '77 - Biology
Laurens "Larry" Smith '77, a scholar, researcher, college professor and longtime senior university administrator, is capping his noteworthy academic career as one of the highest-level administrators in the Utah State University (USU) system, home to more than 28,000 students.
In May 2019, Smith was appointed Interim Vice President of Statewide Campuses at USU, a position that makes him responsible for oversight of eight regional campuses in the Utah State system and 25 other educational centers in small towns throughout the state. As statewide vice president, Smith manages the central statewide campus system and works with associate vice presidents who oversee the regional campuses to help them manage student enrollment, operations, budget, personnel and community engagement.
Before assuming his new role, Smith served as interim Vice President of Research, and before that had been Interim Provost for 19 months after the then-Provost was selected as Utah State's new president. Up to that point, Smith had been serving as USU's Executive Senior Vice Provost, the second highest-level person carrying a provost title, for nearly a decade. Smith had also served as Interim Dean of the School of Graduate Studies from 2003-05. 
After graduating from Eastern with a B.A. in biology, Smith earned a master's degree in physiology at the University of Kansas in 1979, then went to the University of Maryland for his doctorate. His doctoral work focused on cell membrane physiology. After receiving his Ph.D. in 1985, Smith held three postdoctoral research positions, one at the UConn Medical Center in Farmington.
His faculty career began at Idaho State University (ISU) in 1989. There, he taught human physiology and anatomy, animal physiology, and graduate courses in cell biology and molecular science. He was the founding director of a federally-funded campus Molecular Research Core Facility and became increasingly involved in administrative and leadership roles. After 14 years at ISU, he moved to Utah State to assume administrative duties there.
Smith and his wife Carol von Dohlen, a biology professor at USU, live in Cove, UT. Their daughter Clara graduated from Macalester College in 2018, and their son Ethan is a senior at Dartmouth College. Time permitting, Smith is an avid fly fisherman, skier and hobby vintner.