Is the artist the work, is the work the artist, or is each element autonomous under its own power?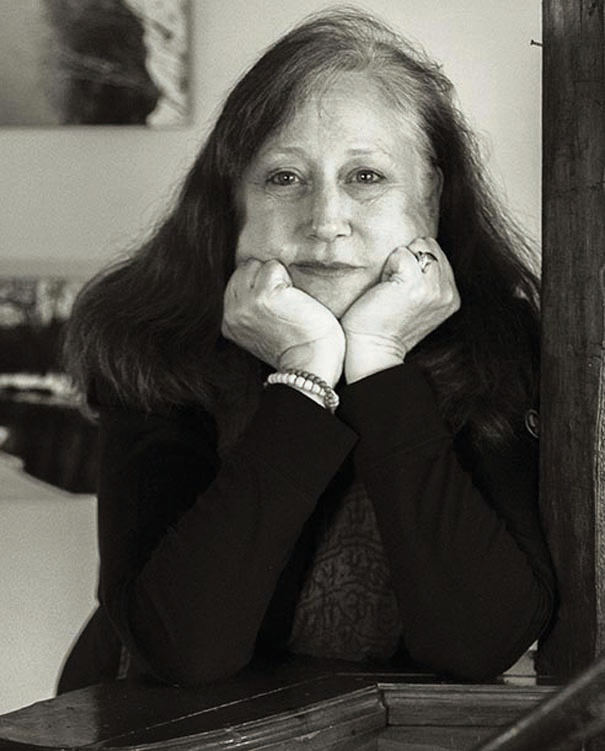 Previewing the environmentally focused Far Eastern oeuvre of artist, writer, critic, and educator Gail Gelburd an overriding riddle – in this case, koan – reveals itself with the impact of your first glimpse. You want to sit down with her and delve deeper. A studio visit is quickly arranged at her enclave in the Berkshires. First – a long look at the work.
The Ph.D. and Professor in the Art Department at Eastern Connecticut State University, is currently exhibiting both her installation series, Encased Memories and Public Art Piece, Unbound Presence at MS17 Art Project in New London – the highly innovative and progressively dynamic contemporary gallery focusing on social and environmental commentary and a myriad of global concerns.
There is a prelude to the exhibition gallery housed in the adjacent public space. The artist's five semi-transparent 20 foot scrolls curtain the soaring atrium at MS17, boldly illustrating the dynamism and unpredictability of water with the raw power and varying ferocity of cascading waterfalls. This is an interactive experience: viewers stand beneath the panels­ – each an archival digital print on fabric embellished with encaustic (wax) medium; and in this place, feel the movement of water against nature. Standing amidst the boldness of the work, the effect is humbling…close your eyes and sense the chilling mist on your skin. Nature becomes bigger than you are, and there is a profound sense where Gelburd is going with this conversation……
To view full article, please click here